Thank you, again, for visiting DougHalper.com  
As mentioned on the homepage, I am now showcasing all 4 of my focused mediums on one site.  Here is a brief description of each medium and how it can enhance YOUR event... YOUR space... YOUR life!
Wire
The "wire" page features wire bent into names - either ordered in advance or while you wait!  Names (titles, phrases, whatever you can think of) are self-standing and have multiple purposes.
This example shows a standard place-setting or take-home gift.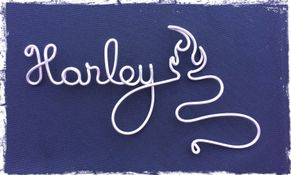 While these examples show how they can be used to hold a place card / picture (popular at weddings, bar/bat mitzvahs, etc.) or any flat item you can think of!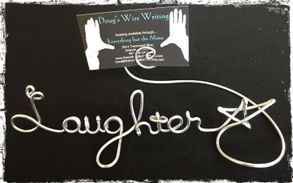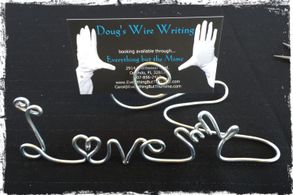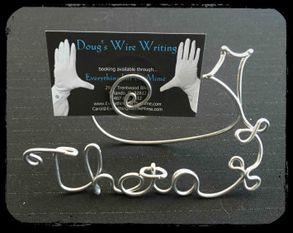 Here are 2 very popular selections for couples...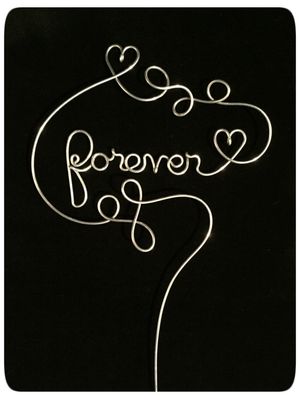 and that's about the size of it!  Pretty simple and sweet.  Speaking of size... most pieces average around 5" - 10" with each letter being approximately 3/4".  Use your imagination and ask for what you want!
Light
The "light" page features wall hangings that add pizzazz to a room!  These pieces are mounted on canvas and can be as small as 2' x 2' or as large as your room can handle!  From a small picture to a wall mural - anything is possible!  
Some pieces are simply created on a black background while others feature images on the canvas that are only seen in a lit room.  For instance, this John Lennon piece simply looks like the classic self-portrait.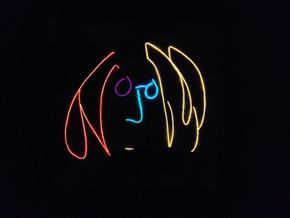 However, when the lights are on, you can see that the background is filled with his hand-written notes, letters, postcards and song lyrics!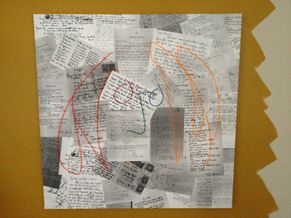 Here is a picture of it close up...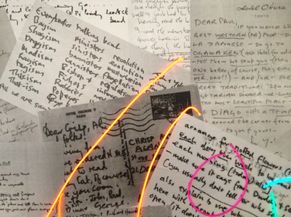 Pretty cool, huh?  Some folks like the simple, elegant look with nothing in the background.  Others like the more profound look with something else to look at with the lights on.  Both are made to be PERFECT for your space!
The EL wire which is 2.6mm thick is always COOL to the touch! Its brightness is often compared to glow necklaces popular at fairs and the energy required to light it pales in comparison to neon (not to mention the absence of glass - and, therefore, fragility). Colors will only fade (over many, many years) when exposed to sunlight - otherwise, it remains bright and vivid!
All you need is an outlet and a place to hang it.
All pieces are made to order!
Paper
The "paper" page has MANY options; from decor to place-settings, invitations to announcements and even live entertainment!
Let's start with the decor and place-settings.  Basically, if you have a need - we can meet it.  Even if you can't imagine how it can be done - we can!  Here is a place-setting that was designed to hold a fortune cookie in the middle.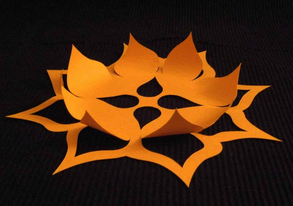 This next piece was a 6' x 4' wall hanging containing 1,000 cranes.  Other cranes were dispersed around the room such as on the dessert table in the foreground and the coffee bar in the back corner.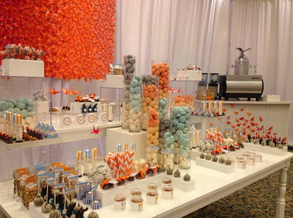 Next, we have the invitations and announcements.  This first sample is an invitation to the marital union of two chess lovers!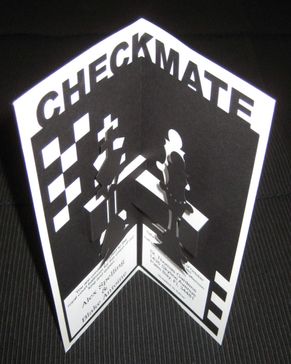 And here is a baby announcement with stork and carriage ready to go!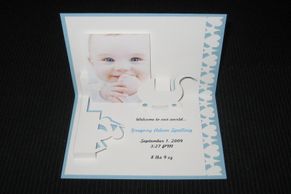 And, finally, we come to the live entertaining.  In simply minutes (2-3 minutes per item), Doug (aka Douglas Scissorhands) will take an ordinary piece of paper and a pair of scissors and create a bit of paper magic before the spectator's eyes; magic that can be folded flat and taken home! Check out this court jester...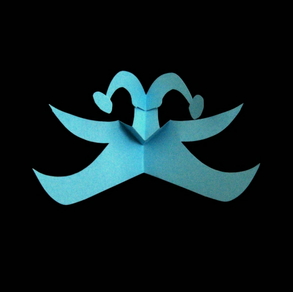 And if you thought this was just for kids - think again!  Here's a happy leo with his lion...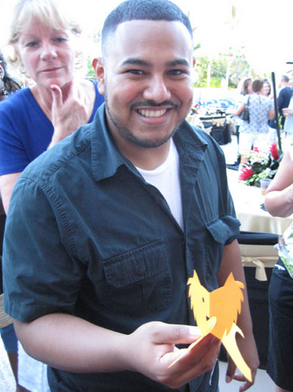 Want to LEARN how to create paper masterpieces?  Here's an entire library filled with eager students (about 100) who are more than proud to show off their newest creations!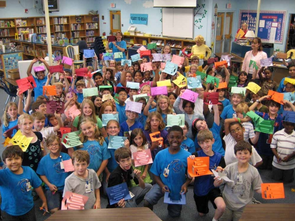 Who knew you could do so much with a piece of paper?!?!
Music
It seems a tad bit silly to describe music with words.  Let's say that Doug has been performing music professionally for over 35 years for clients such as:
Disney
Universal
Warner Brothers
and he's only just begun.  The HAMMERED DULCIMER seems to be the instrument that gets requested most - probably because of it's unique sound, look and allure.  If you have 3' x 3' space for Doug and his dulcimer to roost - you'll be sure to attract many a client and entertain many a guest.
But enough with the words.  Take a listen on the "music" page!